This Skillet Breakfast Scramble is a gluten-free, tasty and nutritious one-pan meal that should not be limited to just breakfast. Full of protein, veggies, choline and lots of flavor, it is great for group gatherings or meals that can last you throughout the week!
This post is sponsored by Eggland's Best. I only work with brands I respect and support, and use myself. Thank you for supporting the brands that allow Bucket List Tummy to continue!
Hey friends, I hope you had a good weekend! I'm feeling pretty accomplished after our weekend and ready to tackle the week ahead. This one should be a little more low key as I've started lightening my client load.
On another note, our close friends who's due date was 2 days before me had their baby girl this weekend.
Crazy to think that could happen to us too!
I have learned so much about myself, and even my diet, during pregnancy. I have become more of an intuitive eater through the process of this learning. While allowing myself to eat intuitively, I've also been conscious of getting the proper nutrients during pregnancy.
Specifically, nutrients like iron, folic acid, calcium, and omega 3's are needed in higher amounts during pregnancy. But there's another nutrient that pregnant women need more of, and it's one that researchers are starting to understand much more.
It's called choline.
What is choline?
Choline is a nutrient that has similarities to other vitamins, though it's technically not classified as a vitamin. Our body can actually make small amounts of it endogenously, but not enough to survive on.


Therefore, choline is an essential nutrient, meaning we must consume it through food (or supplementation).
Research shows that 90% of Americans aren't getting enough choline. Yikes, right? As a result, the FDA recently increased the recommended daily intake to 425 mg a day for adult women and 550 mg a day for men.
The number increases for pregnant (450 mg/day) and breast-feeding (550 mg/day) women as well. So, I've become very conscious of this, knowing that it's under consumed by women (and pregnant women) in general.
Choline is important throughout the life cycle, but is extra important during pregnancy because it's crucial to the growing baby. It's needed for brain and spinal cord development, cognitive functioning, cell signaling, and metabolism.
You can find more about the importance of choline here.
[Tweet "Choline is important for both #pregnant moms and babies for proper growth, cognitive funtioning and metabolism. Nearly 90% of American's don't get enough #choline, so it's crucial to get through diet! "]
Where do you find choline?
Well, one of the problems is that it's actually not in many prenatal supplements. It's so crucial for pregnant women yet it's not in the prenatal supplement. Problematic, right?
Many supplements are being reformulated now to try to include them. Therefore, it's imperative for women to include choline from their diets, or rely on other supplementation.
The main food sources of choline are animal products, mainly beef, eggs, chicken, fish and milk. Choline is also found in soybeans, potatoes, wheat germ and some veggies.
Lucky for me, I've loved eggs throughout pregnancy and included them almost every day. And today, I'm sharing a delicious recipe with you that is chockfull of choline!
In fact, one serving meets nearly 50% of your daily requirements.
I love breakfast foods. In fact, breakfast is by far my favorite meal, and the only thing that comes close in comparison is dessert. Breakfast usually looks like oatmeal, pancakes or some combination of eggs.
I love the simple combo of eggs and toast, but I wanted to create something with more choline. So, I added ground beef, some dairy and cauliflower, three sources of choline.
So, in this breakfast, not only do you get ample protein and veggies – but lots of choline! Just pair it with some toast or potatoes and you have a complete meal. Or, you could actually have this for any meal – let's not limit it to breakfast.
My favorite thing about Eggland's Best eggs is that compared to other eggs, they have more nutrients for your buck – more Vitamin D, more omega 3's, and more B vitamins.
So, they are the only eggs I've been buying throughout pregnancy.
So, let's get to the recipe!
This Skillet Breakfast Scramble is very filling and full of satiating protein. I love the extra cheese in there as well.
One of my favorite parts about this recipe is the quality tasting beef. If you're making any meat recipes, I highly suggest quality, humanely and locally sourced chicken and beef (if possible).
Butcher Box is my favorite and you can use my code "AP10" for $10 off (and free bacon) your first order!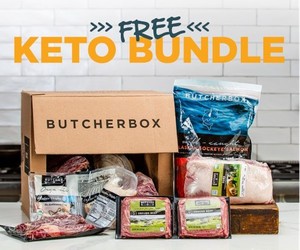 I'm also thinking about making some extra batches and freezing them before the baby comes, so it'll be super easy to just reheat delicious pre-made meals.
And if you're not a cauliflower fan, you can leave that out, or add in any other veggies you may choose. All veggies go great with eggs and ground beef, so the options are nearly endless.
You could also substitute ground turkey for the ground beef, or even use ground chicken. Just note that the choline content may change.
I hope you guys enjoy this as much as I did. And momma's to be, I hope it helps you get your choline in!
Skillet Breakfast Scramble (Gluten Free)
This Skillet Breakfast Scramble is a tasty and nutritious one-pan meal that should not be limited to just breakfast. Full of protein, veggies and lots of flavor, it is great for group gatherings or meals that can last you throughout the week!
Ingredients
6 Eggland's Best Large Eggs
2 tbsp milk
2-3 tbsp butter
1 lb lean ground beef
1/2 cup chopped onion
1/2 cup chopped red bell pepper
2 cups chopped cauliflower florets
1/4 tsp pepper
1/2 tsp salt
1/4 tsp paprika
1/2 tsp garlic powder
1 cup shredded cheese
Instructions
Whisk eggs in small bowl. Add milk and set aside.
Melt 2 tbsp butter in large skillet. Add ground beef, breaking it up as it cooks. Cook for about 5-7 minutes over medium low heat, or until cooked through. Move cooked ground beef to a plate.
Add remaining tbsp butter to skillet if needed. Add onion, pepper, cauliflower and spices. Cook for 5 minutes, or until veggies are cooked through.
Pour egg mixture over veggies and cook on medium-low heat for 3-5 minutes, until eggs are cooked through and scrambled.
Add ground beef back into skillet and top with cheese.
Enjoy!
Notes
Optional toppings/add in's–greens, mushrooms, avocado, oregano, parsley, cilantro, sour cream, greek yogurt, etc!
Approximate Choline Content: 225 mg/serving
Nutrition Information:
Yield:

6
Serving Size:

1
Amount Per Serving:
Calories:

448
Total Fat:

32g
Saturated Fat:

16g
Trans Fat:

1g
Unsaturated Fat:

13g
Cholesterol:

303mg
Sodium:

555mg
Carbohydrates:

6g
Net Carbohydrates:

0g
Fiber:

1g
Sugar:

3g
Sugar Alcohols:

0g
Protein:

34g
Pin it for later!
I hope you guys enjoy this. Don't feel like you just need to save it for breakfast! It's made a great dinner for us, and even leftovers for quick lunches too!
Have you heard of choline?
What's your favorite way to enjoy eggs?