EPA and DHA Vs. Fish Oil
August 29, 2018
Last Updated: February 10, 2020
This shop has been compensated by Collective Bias, Inc. and its advertiser. All opinions are mine alone. #NatureMadeHeartHealth #CollectiveBias
It's time for a nutrition-y post. I've talked about Omega-3 fatty acids on the blog before, but I figured it was time to differentiate between Omega-3​ fatty acids, fish oil, and all the like. Are they one in the same? Should everyone be taking these supplements?
I consider myself very hyperaware of things that interest me. I like to read and ask questions in my support group and anything that has to do with nutrition, babies and breastfeeding. I'm automatically interested, because of my profession as a Registered Dietitian​.
Lately, I've been researching about the components of breastmilk. I always wonder if what I'm eating has any affect on how breast milk breaks down and what nutrients Cam is getting. During pregnancy, I talked about the importance of eating fish for its nutrients for baby, but now that she's here, I'm even more interested.
For example, I know that the amount of Omega-3 fatty acid in the fetus is correlated with the amount ingested by the mother, so it is essential that I continue to nourish myself and Camryn.
Fish is recommended to pregnant women (and everyone) for a few reasons. Firstly, it's a great source of protein and many nutrients, like Vitamin D (which is difficult to get in the diet), Vitamin B-6, Calcium and Potassium. Fish is also a great source of the essential Omega-3 fatty acids, EPA and DHA.
Fish oil supplements contain EPA and DHA, but they lack the protein or micronutrients that fish provides.
What Exactly Are EPA and DHA?
I find that it gets a little confusing – supplements are marketed as "fish oil", but what they are providing is EPA and DHA (polyunsaturated fatty acids, aka PUFA), which is really what our bodies need. A lot of my clients have asked questions about this. Should they be taking fish oil supplements or DHA + EPA supplements? Well, now, hopefully things can be a little easier for people, thanks to Nature Made® and Walmart.
So, there are two types of fats in our diets – saturated (coming mostly from animal products) and unsaturated. Among unsaturated fats, there are two further types: monounsaturated (olive oil, avocados, some nuts/seeds) and polyunsaturated.
So, Omega-3 fatty acids (the "heart healthy fats") fall under the polyunsaturated fats umbrella. Both DHA and EPA are types of Omega-3 fatty acids (and hence, types of polyunsaturated fats). ALA is another Omega-3 fatty acid.
Fish oil contains both DHA and EPA, as the primary Omega-3​ fatty acids.
Should You Buy Fish Oil or EPA+ DHA?
It's confusing, I know! What's important to know is that Nature Made® just switched its packaging from "Fish Oil" to" EPA/DHA" Omega-3 fatty acids at Walmart stores. Walmart is helping to make things clearer for the consumer who is navigating the "fish oil" section.
Previously, by buying "fish oil," it was unclear how much DHA and EPA one would actually get. Now, with the new label change at Walmart, consumers know exactly how much of each they are getting from the label.
I take the Nature Made® Omega-3 660mg EPA+DHA One per Day, Burpless. You can find it in the vitamins aisle at your local Walmart.
Should everyone be taking an EPA + DHA supplement? Well, it probably depends on your current diet. Are you eating fish at least twice a week? Are you also eating other sources of Omega-3s, like walnuts, flaxseeds or flaxseed oil?
Our bodies do not make EPA or DHA, so we do need to be getting them either through our diets and/or supplementation. Our bodies can make some ALA (another Omega-3 fatty acid, but can't convert sufficient amounts into EPA and DHA). As with many other nutrients, pregnant and breastfeeding women need higher quantities since they are sharing with a baby!
You can click the photo to order your Nature Made® Omega-3 660mg EPA+DHA.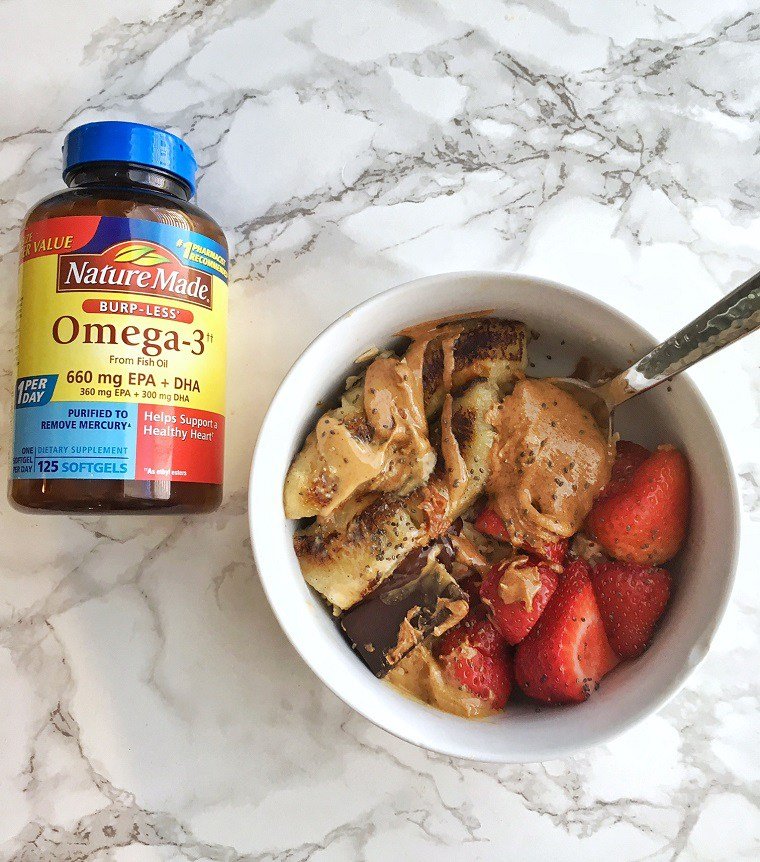 Consider meeting with a dietitian or healthcare provider to see if it is right for you on an individual basis.
The Benefits of EPA + DHA for Moms and Babies
The Omega-3s naturally found in fish oil (EPA & DHA) have been studied extensively for their important roles in supporting heart health.† The FDA has approved a qualified health claim that "supportive but not conclusive research shows that consumption of EPA & DHA Omega-3 fatty acids may reduce the risk of coronary heart disease."3​
While there is not conclusive evidence, there is also research that suggests that Omega-3 supplementation may also influence infant food allergies, cognitive behavior, the microbiome and more. It is clear that EPA and DHA are vital for infant development and healthy aging, which is why lactating mothers should continue ensuring adequate intake.†​ EPA and DHA also play a role in cell membranes (including the brain and the eye) and are precursors for fat metabolism.†​
I took the Nature Made® Prenatal Multivitamin with DHA during pregnancy and still am since I'm breastfeeding and I have felt great overall. It has small amounts of DHA, but not enough to meet the daily requirements, which is why I also take a separate DHA+EPA supplement.
I've taken fish oil in the past, and wasn't a fan of the fishy aftertaste. If you don't like the aftertaste of "fish" in your supplements, Nature Made® offers many "Burpless" Omega-3 items! Nature Made's® Burp-Less formula Fish Oil is specially coated to help prevent that fishy odor and aftertaste. Nature Made® is also the #1 Pharmacist recommended vitamin and supplement brand.*
Even more, the Nature Made® fish oil supply comes from wild caught ocean fish (not farm raised fish). There are no artificial flavors and it has been purified to remove mercury.‡​ Since what I put in my body trickles down to Camryn, it's important that I choose quality products whenever I can.
I hope that clears up some of the confusion between fish oil and EPA + DHA. Let me know if you have any questions! Interested in more information about your heart health and Omega-3s at Walmart? Text OMEGA3 to 555888 and watch a quick video from Nature Made®.
Tell me,
Have you heard of EPA and DHA?
What's your favorite type of fish to eat? I have to go with salmon, but I love tuna too!
† These statements have not been evaluated by the Food and Drug Administration. These products are not intended to diagnose, treat, cure or prevent any disease.
3 U.S. Food and Drug Administration. Summary of Qualified Health Claims Subject to Enforcement Discretion:
Omega
-3 Fatty Acids & Coronary Heart Disease. Accessed 15 March 2017. https://www.fda.gov/Food/LabelingNutrition/ucm0739…
* Based on a survey of pharmacists who recommend branded vitamins and supplements.
‡State-of-the-art purification processes to remove PCBs, dioxins and furans, and mercury to ensure purity levels below 0.09 ppm, 2 ppt WHO TEQs, and 0.1 ppm respectively.
Sarah Schlichter is a Registered Dietitian with a Master's in Public Health Nutrition. She specializes in sports nutrition and intuitive eating, and recipe development. She also co-hosts the podcast, Nail Your Nutrition.