These Roasted Chickpea Cauliflower Pitas are full of flavor, plant protein, and fiber. Never again will you be bored of the regular sandwich!
I received free samples of Toufayan Pita mentioned in this post. By posting this recipe I am entering a recipe contest sponsored by Toufayan Bakeries and am eligible to win prizes associated with the contest. I was not compensated for my time.
Hi friends! I hope you had a great weekend! We spent the weekend on Oak Island. I hardly took any pictures because it was a relaxing getaway. We took Tater out on the beach and I loved every single second watching her chase the birds and prance around.
I did have to sneak out for a long run, but other than that, there was lots of couch time. I finished this book, and listened to a bunch of FNCE talks (yes, I'm still catching up)! Why is it so much easier to relax when you're not in your own environment?
We arrived home early last night and I began doing some meal prep for this week. Lucky for me, I have leftovers to munch on from these Roasted Chickpea Cauliflower Pitas.
As part of a recent Recipe Redux challenge, we were asked to create a healthy wrap, salad or pita option with Toufayan Bakeries pitas.  This was my first time trying Toufayan Bakeries products, but now that I've been introduced, I think they will become the norm. Toufayan Bakeries is the largest pita company in the U.S., and they are available nationwide (see here for locations).
Pitas are a must have pantry staple for me. They are quick and healthy, give a little more life to a sandwich, and are great for stuffing in extra veggies.
Toufayan pitas are filled with top quality, wholesome ingredients (that are naturally trans fat free and cholesterol free). Plus, each pita packs 6 grams of protein and 3 grams of fiber. They have so many options, including multigrain, oat bran, low carb, savory garlic, sweet onion, whole wheat and classic white. Plus, they have gluten free options, bagels, sprouted wraps and more than 100 other enticing products!
I wanted to create a vegetarian pita option, but still bursting with flavor. I made a cauliflower salad last week (similar to potato salad) and it turned out so well that I thought I'd add a little more to the mixture for these babies. The roasted chickpeas add a nice crunch, the greek yogurt provides a creaminess (you could use mayo if you prefer) and you can be liberal with the spices depending on what you like!
If you've never roasted chickpeas, it's really easy. You just set the oven to 425, rinse and dry the chickpeas, season with garlic salt, salt and pepper, and stick in the oven for about 40-45 minutes.
I often recommend roasted chickpeas as easy, portable healthy snacks for clients, and I like them myself due to their crunch factor.
These pitas as filling on their own, piling in 11 grams of protein per half pita, thanks to the chickpeas, Toufayan pitas and greek yogurt!
Roasted Chickpea Cauliflower Pitas
These Roasted Chickpea Cauliflower Pitas are full of flavor, plant protein, and fiber. Never again will you be bored of the regular sandwich!
Ingredients
1

can chickpeas, roasted

1

head cauliflower, cut into florets (or 1 bag frozen florets, thawed)

¼

cup

plain greek yogurt

½

cup

crumbled goat cheese

1/2

red pepper, diced

1/3

cup

shredded carrots

1

cup

corn kernels (optional)

¼

tsp

salt

1/8

tsp

black pepper

¼

tsp

dill

1/2

tsp

garlic powder

¼

tsp

paprika

3

Toufayan Bakeries Multi Grain Pitas

parsley, for garnish
Instructions
Set oven to 425. Roast chickpeas for 40-45 minutes (I season with a little salt, pepper and garlic salt).

While chickpeas are roasting, chop cauliflower into smaller florets. Add chopped cauliflower, greek yogurt, cheese, diced pepper, shredded carrots, corn and spices to medium bowl.

Once your chickpeas are done roasting, add them to the bowl and mix well. Spoon mixture into 6 pitas, garnish with parsley and enjoy!
You can be very flexible with your toppings and sauces. These would also be great with hummus or tahini!
Pin it for later!
I'm linking up with Deborah and Sarah for Meatless Monday and Annmarie, Farrah + Esther for Foodie Friday!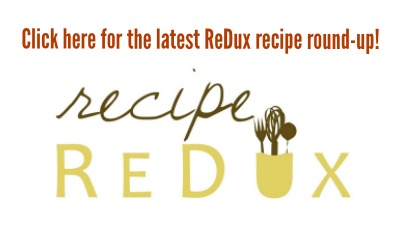 [Tweet "These roasted chickpea pitas are perfect for #MeatlessMonday with 11 g of protein each! #ad #thereciperedux"]
You tell me
Would you choose a wrap, pita or sandwich bread for your ideal sandwich? 
Do you relax more at home (with no plans) or somewhere else?