These Whole Wheat Blueberry Chocolate Chip Donuts are what Saturday mornings are made of. Made with whole wheat flour and packed with blueberries and chocolate, these donuts are a great way to enjoy a slow morning and opt for a gooey slice of goodness.
All the donut lovers out there, raise your hand! I have two hands and two feet raised. I absolutely love donuts. And, I have your next Sunday morning recipe with these whole wheat donuts- you're welcome.
Of course, I encourage eating donuts any day of the week. You don't have to wait until the weekend!
These whole wheat donuts are our newest obsession. You could even call them protein donuts. But, don't eat them for the health benefits; eat them because they're delicious.
They are so fun, so easy and so tasty. Whether you eat them with or without the icing, and you're in for a delicious treat. Some whole wheat donuts can be too tough and chewy, not these. They are soft and fluffy!
I think donuts can be a fear food for some people because they typically provide no nutritional value and are high in sugar and fat. Not everything you eat has to be nutritious or full of nutrients. We eat for so many other reasons.
Sometimes, you just want and need a good old donut and that's okay. When talking with clients about challenging their eating routines, we often discuss adding in fear foods.
If you have interest in intuitive eating, I encourage you to try some of these tips.
Why You Should Make These Chocolate Chip Donuts
Okay, back to these donuts. If these blueberry chocolate chip donuts are wrong, then I don't want to be right.
I know strawberries + chocolate and even raspberries + chocolate get all the attention. But you guys, have you tried chocolate and blueberries? UNDERRATED.
Blueberry chocolate chip donuts may actually be my new favorite.
This recipe is not for vegan donuts, but if you like vegan chocolate chips, Enjoy Life are my favorite. Since we're using whole wheat flour and greek yogurt, these protein donuts will hold you over unlike regular donuts.
You get a great dose of protein in them!
It's no secret I love throwing blueberries into baked goods. Like my favorite loaf of quick bread.
This month's Recipe Redux challenge was to make something delicious using three ingredients we already had on hand – a spring clean out, if you will.
Well, number one, I always have frozen bluebs. I also rounded up some whole wheat flour and some greek yogurt, since you'll find those in the kitchen 95% of the time.
I pretended I was on Chopped and played out opening my basket seeing those ingredients. And you guys – my mind went right to donuts. And baked goods. But specifically, chocolate chip donuts.
I totally respect donuts without chocolate chips. Sometimes you just don't need them in there and simpler can be better.
These blueberry chocolate chip donuts are truly good either way, with or without the chips. So, your preference.
Maybe do half with chocolate chips and half without? But promise me you'll give the blueberry and chocolate combination a chance.
These whole wheat donuts are perfectly soft and if you like a little bit sweeter, add the vanilla icing.
Sidenote: If you don't have a donut pan, I promise it'll be the best $10.00 you spend this week.
Buy multiple so you can have a donut party. That would be so much fun, but only if you invited me.
Whole Wheat Blueberry Chocolate Chip Donuts
Yield: 6 donuts

Prep Time: 10 minutes

Cook Time: 15 minutes

Total Time: 25 minutes

These Whole Wheat Blueberry Chocolate Chip Donuts are made with whole wheat flour, and packed with blueberries and chocolate for a gooey, delicious, slice of goodness.
Ingredients
1 cup of white whole wheat flour
1 tsp baking powder
¼ tsp baking soda
1/2 tsp salt
1/3 cup coconut sugar
1 egg
1 tsp vanilla extract
1 Tbsp butter, melted
1/4 cup vanilla almond milk
½ cup greek yogurt
1/3 cup fresh or frozen blueberries, divided
1/3 cup chocolate chips
Icing (optional)
1 cup powdered sugar
2 tbsp milk
1 tsp vanilla extract
Instructions
Preheat oven to 350°F. Spray your donut pan with non stick spray.
In a large bowl, combine flour, baking powder, baking soda, salt and coconut sugar.
In a medium bowl, mix egg, vanilla, butter, almond milk and greek yogurt. Gently fold in half the blueberries and chocolate chips, and save the rest to top.
Pour batter into donut pan, filling generously, using the other half of the blueberries and chocolate chips.
Bake for 15-17 minutes or until toothpick comes out clean. Mine came out perfectly around 16 minutes. Once donuts are cooled, add icing if prefer.
Nutrition Information:
Yield: 6
Amount Per Serving: Calories: 190

These whole wheat donuts get their airy fluffliness from the white whole wheat flour, which is a little less dense than typical whole wheat flour.
Eat them while they're hot because that's when they are fresh, soft, and the icing oozes into the donuts (aka the best.) They will harden slightly upon cooling, so if you want multiple protein donuts for meal prep, make extra to save for the rest of the week!
You May Also Like:
You can check out all the other Reduxers here!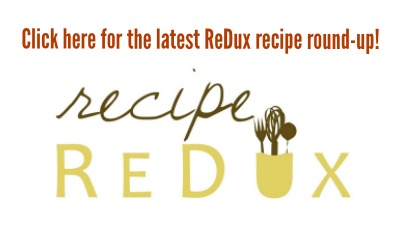 Favorite munchkin flavor? I used to love the glazed and jelly ones growing up!
If you were given berries, yogurt and flour on chopped, what would you do with them?