Hi, friends! Thanks for bearing with me as we adjust to life as new parents. Focusing on freezer ideas for new moms and other freezer-friendly meal prep has been a life saver. I hope these freezer ideas will be helpful for you too!
What You Need For Freezer Meal Prep
I want to share some of my favorite resources for freezer meal prep because to succeed you have to have a few systems in place. These freezer meal ideas for new moms are GREAT for both pregnant women and moms, but also anyone who enjoys meal prepping.
I would have loved to see a post like this when I was pregnant so I thought it may be helpful to compile a list of great recipes that can be made in bulk. While this is great for mamma's to be, it can also be great for meal prep! Or, just freezer prep.
We bought a chest freezer a few months ago that has been the best purchase! If you don't have the money or space for a deep freezer, try to utilize your current freezer the best you can.
First off, having a good set of tupperware or meal prep containers that can go in the freezer are essential. I also love this magnet sheet for mentally planning meals and days.
I also truly believe in buying quality meat for you to eat. I use Butcher Box and can't recommend it enough. It's delivered to your door for free and you can use the code "AP10" to get $10 off your first order. It's antibiotic-free and humanely raised. And right now, you can get Free Scallops + Bacon at ButcherBox!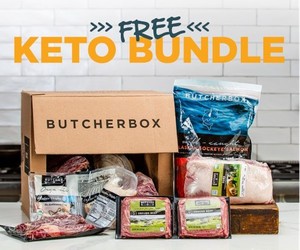 Lastly, if you don't have a crockpot or instant pot, you should invest in one now. Believe me, the money spent now is WELL worth it when you're tired, can't/don't want to leave the house (or put real clothes on) and have no fresh food.
If you're someone who likes to do a lot of cooking in bulk, or wants to have easy meals on hand – maybe you have a surgery coming up, or a loved one is sick, etc. It's nice to have some meals pre-made so all you have to do is just heat them up.
I can't tell you how helpful this was for me as a new mom. I now use this as my guide for new mommy friends who need easy meals that will last them a while.
Freezer Ideas for New Moms and New Moms-To-Be
So, below is a list of recipes that either
a) I made
b) Were recommended to me
c) I found on the internet and thought, "this would make a great baby meal" LOL
It did take some time to make all these recipes but I spread it out over weeks and months. If you're in a rush or low on time, you could knock a lot out in one weekend! Believe me, freezer meals for new moms are so helpful, and helpful to plan for ahead of time.
Breakfasts
Don't forget about the power of breakfast! You'll thank yourself when you can just grab something or reheat something and start your day. Especially if you have a crying or needy baby and are functioning in a sleep-deprived state.
Freezer meal prep recipes for the win.
Cranberry Pomegranate Baked Oatmeal or Apple Pumpkin Pie Baked Oatmeal via Bucket List Tummy
Triple Berry "Lactation" Waffles (Great for breastfeeding moms!) via Bucket List Tummy
Sweet Potato Blueberry Baked Oatmeal via Bucket List Tummy
Zucchini Parmesan Waffles via Krolls Korner
Crockpot Oatmeal via Bucket List Tummy
Freezer to Microwave Breakfast Burritos
Sausage and Cheese Biscuits via Cleverly Simple
Snacks
Snacks for pregnancy and new moms (especially hungry breastfeeding moms) are essential!
The Best 4 Ingredient Trail Mix via Bucket List Tummy
Cheese Herb Muffins via Dish and Delite
Wild Blueberry Sweet Potato Bread
Superhero Muffins via Run Fast, Eat Slow
Fudgey Coconut Chocolate Peanut Butter Bites via Bucket List Tummy
Sunflower Chocolate Chip Chickpea Bars via Bucket List Tummy
Almond Flour Banana Muffins via Bucket List Tummy
Crispy Roasted Chickpeas via The Kitchn
Mint Chocolate Protein Bars via Hungry Hobby
Gluten-Free Strawberry Breakfast Bars via Eating Well
Make Ahead Muffin Mix via Make Ahead Meal Mom
Strawberry Banana Chickpea Muffins via Bucket List Tummy
Dinners
Eating well will help you feel better and more energetic during pregnancy and post partum. However, you probably won't have the time or energy to cook meals from scratch so these easy dinner recipes come together easily and are easy to prep in advance.
Vegetarian Pasta Bake via Bucket List Tummy (easy to freeze)
Freezer to Sheetpan Lemon Pepper Salmon & Green Beans via Diana Rice
Sheetpan Breaded Honey Mustard Salmon via Bucket List Tummy
How to bulk prep chicken in the slow cooker via G&G Nutrition
Vegetarian Mexican Lasagna via How to Eat
Asian Turkey Style Meatloaf via Jessica Levinson
Easy Instant Pot Vegetarian Chili via Kara Lydon
Sweet Potato Turkey Burgers via Bucket List Tummy
Easy Freezer Meatballs via Happy Money Saver
Thia Peanut Chicken (For Freezing) via Smart Nutrition
Curried Chicken and Chickpea Soup via Jill Weisenberger
Pumpkin Chicken Crockpot Chili via Bucket List Tummy
Veggie Lasagna Rolls via Champagne Nutrition
Hummus Pasta Salad via Bucket List Tummy
How Meal Prep Can Help You
I hope you find these freezer ideas for new moms helpful if you're expecting or just want to do some fun meal prep. It can be easy to put all of our focus on a little one, and neglect ourselves.
I've found that muffins and bars are my FAVORITE easy grab and go snacks. You have to think that you want easy, snacks that you can eat with one hand.
And ones that have a little more satiety to them help, too, especially when breastfeeding in the middle of the night.
We're going to try to get out this weekend (we have a neighbor's two-year-old birthday party) which should be fun! Next week, I hope to have a post up about common questions about Intuitive Eating and a FUN post too!
You tell me,
What do you have planned for the weekend?
What are your favorite on the go snacks? Any other freezer ideas for new moms?
This post contains some affiliate links, meaning I may earn a small commission if you make a purchase, at no additional cost to you. I appreciate your support and thanks for helping me continue Bucket List Tummy.