These recipes for freezer meals for new moms will make the transition to motherhood that much easier. Make ahead freezer meals are easy and will be ready for you when you need them!
As an Amazon Associate, I may earn from qualifying purchases.
Hi, friends! Thanks for bearing with me as we adjust to life as new parents. Focusing on freezer ideas for new moms and other freezer-friendly meal prep has been a life saver, which is why I think it's important to share these easy pregnancy meals with you.
I hope these healthy freezer meals for new moms will be helpful for you too, even if you aren't a new mom. They were, by far, the smartest thing I could have done to prepare for my daughter!
If you're someone who likes to do a lot of cooking in bulk, or wants to have easy meals on hand – maybe you have a surgery coming up, or a loved one is sick, etc. It's nice to have some meals pre-made so all you have to do is just heat them up.
What Are The Best Healthy Freezer Meals For New Moms?
As most of these listed below, the best healthy freezer meals will have multiple macronutrients and food groups so they nourish you and keep you full for a period of time.
I've divided these freezer meals for new moms into different categories, such as:
Breakfasts
Snacks
Crockpot Freezer Meals
Dinners
These easy freezer meals are GREAT as healthy pregnancy meals and pregnancy dinner ideas as well. But, they also appeal to anyone who enjoys meal prepping!
What Do You Need For Freezer Meal Prep?
I want to share some of my favorite resources for freezer meal prep because to succeed you have to have a few systems in place. Obviously, if you need pregnancy dinner ideas or you want to make freezable meals for new moms, you need the right supplies.
I would have loved to see a post like this when I was pregnant so I thought it may be helpful to compile a list of great recipes that can be made in bulk.
While this is great for mamma's to be, it can also be a great resource for meal prep! Or, just freezer prep.
Chest Freezer
We bought a chest freezer a few months ago that has been the best purchase! If you don't have the money or space for a deep freezer, try to utilize your current freezer the best you can.
Tupperware and Storage
I recommend purchasing a good set of tupperware or meal prep freezer containers that can go in the freezer. Otherwise, you won't have much room for your healthy freezer meals.
Meal Prep Sheet
This may be because I'm a nerd but I love writing down and noting what I'm making or have made. I love this magnet sheet for mentally planning meals and days.
Quality Meat (If You Eat Meat)
I also truly believe in buying quality meat for you to eat, especially if you're pregnant and/or nursing. It can be a great source of iron and other micronutrients.
I use Butcher Box and can't recommend it enough for $6 a meal or less!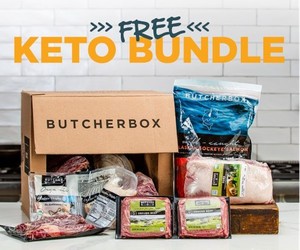 It's delivered to your door for free and ESPECIALLY AS A NEW MOM, is such a life saver. I don't have to worry about the quality of my meat, or what cuts are available at the grocery store – they just send me what I choose.
Since grass-fed beef is high in protein, iron, zinc, B-Vitamins, potassium and more, it is a great option for meals for pregnant women.
Crockpot or Instant Pot
Lastly, if you don't have a crockpot or instant pot, you should invest in one now. Believe me, the money spent now is WELL worth it when you're tired, can't/don't want to leave the house (or put real clothes on) and have no fresh food.
Crockpot freezer meals for new moms is where it's at!
Scroll down to the section on make ahead freezer slowcooker meals if this is your jam.
I can't tell you how helpful these homemade freezer meals were for me as a new mom. I now use this as my guide for new mommy friends who need easy meals that will last them a while.
Best Freezer Meals for Pregnancy (And Freezer Meals For New Moms)
So, below is a list of recipes that either
I made
Were recommended to me
I found on the internet and thought, "this would make a great baby meal" (Seriously, though, researching freezer meal prep ideas helped)
It did take some time to make all these recipes but I spread it out over weeks and months. If you're in a rush or low on time, you could knock a lot out in one weekend!
Believe me, freezer meals for new moms are SO helpful because you won't have time (or honestly, brainpower) to think once baby arrives, so I'm a big fan of freezer meals for pregnancy.
Easy Freezer Meals: Breakfasts
We tend to only think about dinners in terms of make ahead freezer meals, but don't forget about the power of breakfast!
You'll thank yourself when you can just grab something or reheat a healthy freezer meal and start your day. Especially if you have a crying or needy baby and are functioning in a sleep-deprived state.
These also operate as healthy pregnancy breakfasts, too! The lactation waffles are high in galactagogues to help with milk production if you plan on nursing.
Freezer Meal Prep: Snacks
Snacks for pregnancy and new moms (especially hungry breastfeeding moms) are essential!
When hunger hits you instantaneously, you're not going to want to wait to bake something. That's why, personally, I think snacks are the hidden secret in terms of freezer meals for new moms. No one remembers them but they are the most important part, to bridge the gap between freezer meals.
Most of these make ahead freezer snack recipes have some sort of protein, which is key for satiety and satisfaction.
Best Freezer Meal Ideas: Dinners
Whether you're looking for healthy crockpot freezer meals, freezer family meals or easy freezer meals, these dinner ideas are meant to help you.
Eating well will help you feel better and more energetic during pregnancy and post partum, so having pregnancy dinner ideas and go to recipes help!
However, you probably won't have the time or energy to cook meals from scratch so these easy dinner recipes come together easily and are easy to prep in advance.
Crockpot Freezer Meals
Crockpot freezer meals are the most hands off options available because the slow cooker does all the work! To me, they are the best freezer meals.
Here are some favorites:
Pin it for later
Can You Make Freezer Meals For a Month?
I hope you find these freezer ideas for new moms helpful if you're expecting or just want to do some fun meal prep. It can be easy to put all of our focus on a little one, and neglect ourselves.
Easy freezer meals don't have to be overwhelming. I just did a few recipes each week that built up over time (so thankful for my chest freezer). Or, if you're making a recipe that is freezable, just double or triple the recipe and then you don't necessarily have to take an extra time to make freezer meals for baby.
You could easily stock up on freezer meals for a month if you have the space and do it little by little.
I've found that muffins and bars are my FAVORITE easy grab and go snacks. You have to think that you want easy, snacks that you can eat with one hand. Add some yogurt or nut butter for a protein-packed satisfying snack.
And ones that have a little more satiety to them help, too, especially when breastfeeding in the middle of the night.
This post was originally published in April 2018, and photos and text were updated in September 2019.
You tell me,
What do you have planned for the weekend?
What are your favorite on the go snacks? Any other freezer ideas for new moms?